The hot pot world that I think about every day and night
"Liu Yishou" Seattle Store
Dine-in is on!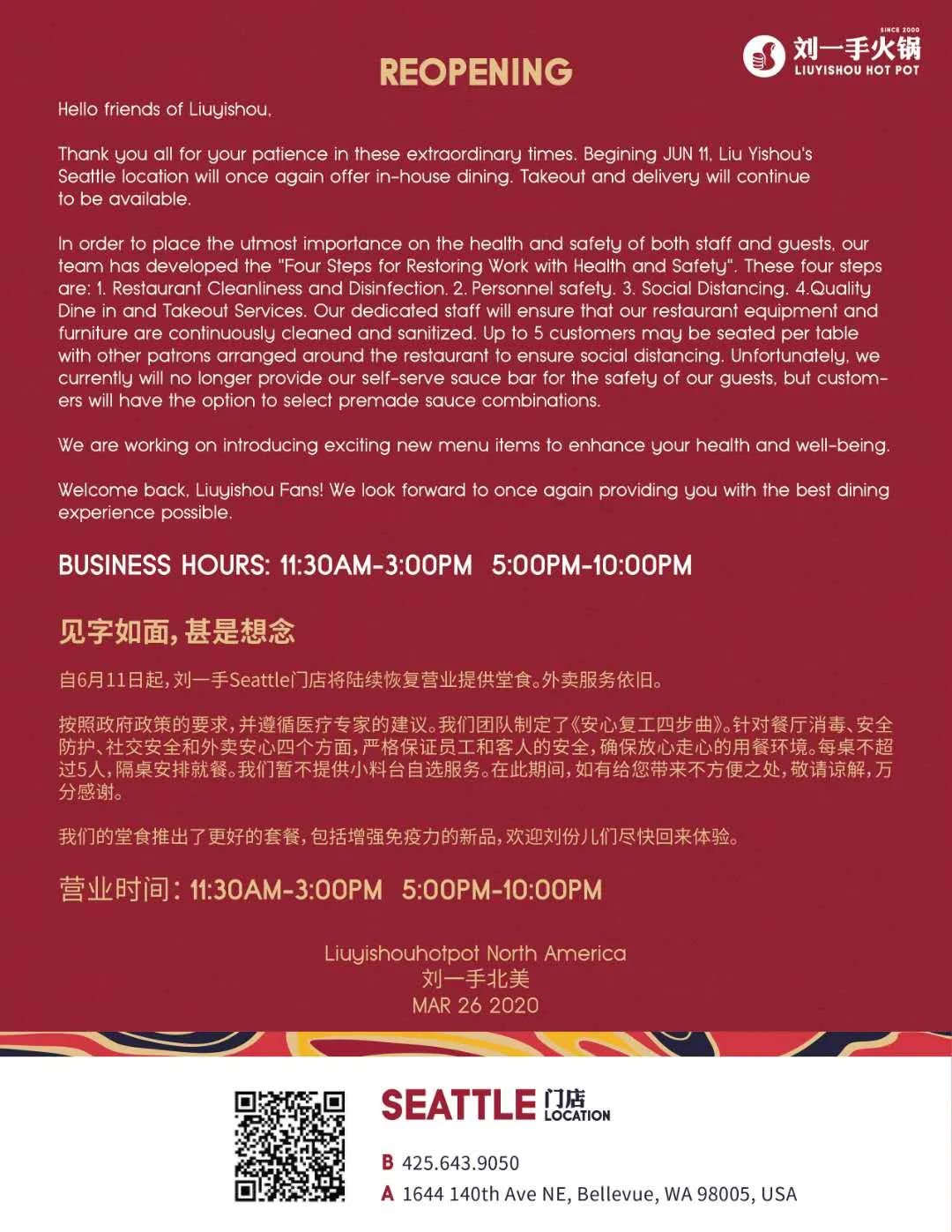 They also specially planned a double holiday gift-
Liu Yishou

Father's Day ✖️ Dragon Boat Festival
Double benefits waiting for you
⏰2020.06.17~06.21
Take the closest photo of you and your dad/child
Send it to the small customer service "Liu Yishou Hotpot",
Participate in small gifts(I.e.
⏰2020.06.22~06.25
Order "Liu Yishou Hot Pot" takeaway,
You can get [Dragon Boat Festival Bai Zong] for free⬆️
Everyone has a hot pot feast,
Super fun "Hot Pot Rice Dumpling" diy game,
Come and play with us!
Father's Day Special Event
The closest photo, the proudest dad.
Father as a mountain.
Father has the strongest arm; it is the most reliable harbor.
And this Father's Day,
Liu Yishou hot pot hopes to find the most intimate moments of [Father] and [Son] in the city;
With the deliciousness of hot pot, witness the continuation of fatherly love.
How to play? It's very simple:
From February 6nd,
Take the picture that you think is most like your [Father and Son]
(Whether you are a father or a son in the photo)
Send to the customer service assistant of Liu Yishou store in your area.
Just send photos at the event,
You can receive [Liu Yishou's father's day exclusive small gift]
(Dishes or coupons).

At the same time, Liu Yishou will collect in each area
[Father and Son] In a group photo,
Pick the "most interesting/similar" groups of photos and send out a special gift package:
First prize * 1
Second prize * 2
Third Prize * 3
It's funny to be warm, and various poses are created!
Participation method 🌟 Add the small customer service assistant of the local Liu Yishou store below; send a group photo.
Participation time⏰June 6th-June 17st
(I.e.SeattleLiu Yishou Hotpot Small Customer Service Express ⬇️
Some love, needless to say;
Accompanying you all the way, you are my superhero.
Take Dad's hot pot,
Dumplings appeared on the dining table? !
Surprise!
Liu Yi launched the Dragon Boat FestivalLimited Dragon Boat White Rice Dumpling!
Order Takeaway/Dinner Bai ZongFree! fee! give away!
The Chinese chefs showed their talents,
Unlock N+1 ways to eat dumplings:
Everything can be rinsed-
"Shabu Dumplings"
Sticky glutinous white rice into the bottom of the red oil pot;
Dipped in Liu Yi's special soybean powder and brown sugar,
Salty and sweet, spicy and fragrant.
"Xiang Guo Zong"
The stir-fried rice dumplings are full of flavor now;
The taste is similar to rice cake, but it is softer and more delicate.
More hidden eating methods, fairy match waiting for you to discover!
Dine-in starts, rest assured
Yes, you read that right,
Liu Yishou Hotpot Seattle is finally open for dine-in!
Zhaijiayingyue,
The hot pot I think about day and night, me! Come! Now!

Strictly prevent and control
This time, he started preparing for dine-in.
Refer to the recommendations of medical experts,

From restaurant disinfection, safety protection, social security, takeaway relief
Started with four aspects and formulated"Quiet Resumption of Work"
Full-time disinfection three times a day in the morning, middle and evening.
The front hall, packing area, back kitchen, toilets, where there are signs of life, are the focus of disinfection.
🌟Front hall🌟

Road signs can be seen everywhere, leading diners to the designated area for dinner.
The chef was fully armed with goggles, gloves and masks from the minute he took the post.

The "full safety" dining process-diners entering the store need to wear masks to measure the temperature.
When serving food, a special dish-sealing box will be passed along with a dine-in relief card, which records the temperature details of each person handling it.
There will also be transparent partitions at checkout to isolate guests from service personnel.
The store also strictly follows the social isolation policy,
In short, a set of refined processes,
Almost done"0 contact".
Under the most stringent prevention and control measures,
Friends can let go of their fears and boldly come to the store to get rid of it.
Dine-in hot pot experience, full of heart and peace of mind!

At last,
Friends, don't forget to upload "The Most Warm Picture of Father's Day"
Participate in the "Fantasy Eating Rice Dumplings" activity.
Let's go eat hot pot together!
* This article is a food promotion article and does not represent a food stance
It is for transmission and reference only and does not constitute any suggestion of behavior.
❤️ Hope everyone is healthy
I think this one looks good????