The United States' recent precarious visa policy and the lack of slowing down of the epidemic have caused many Chinese friends to start thinking about whether it's time to live in another place.

And code farmers, as the main force living here, because of the nature of work that can go to the end of the world with the sword at any time when they are connected to the computer, and the seamless connection ability of communicating with code wherever they go, it seems even more so in the current normalization of wfh. There is more confidence to just leave.


In the past two days, we have chatted with code farmers who live in major cities in China and the United States. Where are we living? The happiness index is really high.
Emerging Technology City Shenzhen
VS Seattle
Price-performance ratio: 🌟🌟
Career development: 🌟🌟🌟🌟
Eat, drink and have fun: 🌟🌟🌟🌟
Male and female balance: 🌟🌟🌟🌟

Although the total financing of Shenzhen startups and the number of unicorns are one less than that of Beijing, Shanghai plus Hangzhou, Shenzhen wins because of its big factories. In addition to a large number of entrepreneurial hardware companies, Shenzhen's code farmers are mainly concentrated in goose factories and Huawei.

The life of code farmers in Shenzhen is very interesting and petty bourgeoisieIn addition to the common hobbies of global code farmers, there are also many who like photography and travel. Calling friends and calling friends to rent a homestay villa by the beach at the end of the field to barbecue and set fireworks.

From the perspective of income, the salary of 15 to 30 yuan for junior code farmers is not as good as that of large companies in Beijing, but the happiness of Shenzhen code farmers is obviously higher. If you really want to buy a car, Shenzhen, which has the characteristics of Beijing lottery and Shanghai auction, can also give you a quick ride.

Thanks to Shenzhen's "Shenzhen people when they come" friendly settlement policy for highly educated talents, once Shenzhen code farmers join a large company, they feel like they are on a safety deposit, with various benefits that change in various ways, and they have a lot of stability.

Although the housing price in Nanshan has risen to 8-10 per square meter, with the establishment of the Guangdong-Hong Kong-Macao Greater Bay Area and the thriving Bao'an District, everyone can grit their teeth.
(The hardcover house in Bao'an District is next to Metro Line 11. It takes about 30 minutes by taxi to Nanshan District where technology companies gather. Photo source: Anjuke)
Price-performance ratio: 🌟🌟🌟🌟
Career development: 🌟🌟🌟🌟
Eat, drink and have fun: 🌟🌟🌟
Male and female balance: 🌟🌟🌟

Compared with the Bay Area, Seattle's code farmers are much less anxious about money.

Two companies competing for the "richest man", Microsoft and Amazon, are vying for the first place. Although there are many medium-sized companies and startups, the number of large companies and job-hopping opportunities are still less than in the Bay Area.

Fortunately, code farmers are also very satisfied with their company. The endless National Forest Park nearby, hiking, camping, skiing, boating out to sea and flying planes, are the real concerns of Seattle Manon.

The environment with many men and few women makes many people choose to carry their girlfriends from China. The relatively low consumption makes it easy for many Seattle code farmers to live a life of making money alone and the whole family is not hungry.

The farmer who just graduated with an annual salary of $10 to $13 will be able to live a life with a house and a car by depositing a two-year salary.

Although Seattle's housing prices have also soared to the top in the United States in recent years,But compared to the Bay Area, in popular areas such as Bellevue and Redmond, you can still buy very good single houses or townhouses for $7 to 80.
Friends with zero experience buying a house for the first time, sign up for Flyhomes' free Seattle house buying seminar, You can learn more about the buying process and essential dry goods knowledge! (Please refer to the end of the article for the registration method~)
(The Redmond detached house that we recently bought for our customers, the price is about 90 US dollars, sits on a 9-point school district, has just undergone a complete renovation, there were 8 buyers at the time, and the competition was fierce.)
Veteran Technology Center

Beijing VS Bay Area


Price-performance ratio: 🌟
Career development: 🌟🌟🌟🌟
Eat, drink and have fun: 🌟🌟🌟🌟
Male and female balance: 🌟🌟🌟🌟

Beijing is the city with the highest proportion of Internet workers in China, accounting for almost half of the country.

Beijing's code farmers have dreams, Maybe today you join a start-up company with only 10 people, squeeze a box lunch in the office, closed the development day and night for half a year, 997 overtime debugging, after three or four years, you will be able to cash in the option to the peak of life, and one day will appear in the circle of other people forwarding In the press release.

In terms of emotional life, although there are few female code farmers, fortunately, there are female students who operate and design products. If you don't have enough high-quality resources around you, you can also go to Chaoyang Media's Flower.

However, code farmers still have many practical issues to consider. Junior code farmers do not have a car and are not eligible for lottery. Even if they are eligible, they have to wait in line for several years, or bite their teeth and spend thousands of yuan a month to rent a license plate. Most people still choose to squeeze the subway first, and then the shuttle bus swayed all the way to the back factory.

In the places where Internet companies like Zhongguancun, Shangdi, and Wangjing gather, housing prices have already broken 8 yuan per square meter, and any set is more than RMB 4 or XNUMX million. A junior code farmer with an annual salary of XNUMX (about XNUMX US dollars) can't even think of it. Outside the Fifth Ring is the real habitat of programmers.

Take Huilong Temple outside the North 5th Ring Road, for example, the price of an entry-level two-bedroom and one-living house less than 500 square meters is still 70 million (about 30 US dollars). When there is no traffic jam, it takes about XNUMX minutes to take a taxi to Houchang Village where technology companies gather.
(Source: Anjuke)
This suite requires a down payment of close to 150 million. Even if the outstanding R&D engineer graduated from Beijing University of Posts and Beihang University has an annual salary of 20 to 30, and does not eat or drink or pay the rent, it needs to save for 4-5 years. Money is not the only condition for buying a house in Beijing. Work residence permit or Beijing residence permit is the admission ticket for house purchase qualifications.
Price-performance ratio: 🌟🌟🌟
Career development: 🌟🌟🌟🌟🌟
Eat, drink and have fun: 🌟🌟🌟
Male and female balance: 🌟

As a veteran technology base camp, Silicon Valley is a resort in the heart of programmers. The headquarters of many technology giants such as Google, Facebook, Apple, Airbnb, Uber, and the most powerful VCs all gathered in the Bay Area, which is enough to prove the status of Silicon Valley.
(Image source: tripsavvy.com)

You can only enter Silicon Valley after graduation. Compared with other regions, the Bay Area's employment opportunities, wage levels and innovative atmosphere are definitely No. 1 big brother. The package of newly graduated Bay Area code farmers is generally 13-15, and everyone is a small gold mine.

Everything in the Bay Area is good, that is, there are fewer girls, and the ratio of men to women is definitely the biggest flaw in the Bay Area.On weekends, regardless of whether it is hiking, picking cherries or killing werewolves, many male coders will never pick a game. After all, it is a rare opportunity to meet girls (but because of the epidemic, this opportunity is gone).

When you go out to eat, go shopping and drink milk tea, the surrounding conversations always fall on the same questions: Do you recruit people? I heard that XXX took a super package? I heard that XXX has been upgraded to L5? How will house prices continue to rise recently?

Although the real estate market in the Bay Area is cruel, it is still possible to buy a million-dollar "luxury house". The strong rigid demand has created an extremely uneven supply and demand relationship in the Bay Area. Housing prices are very high and competition is fierce.
(The detached house we recently helped our customers grab is located in San Jose, Bay Area, 5b3b, about 2400Sq.Ft, and the transaction price is about 145 million. Apple, Adobe and other technology companies are all nearby)

Sentimental and livable farmer gathering place
Shanghai VS Boston
Price-performance ratio: 🌟🌟🌟
Career development: 🌟🌟🌟
Eat, drink and play: 🌟🌟🌟🌟🌟
Male and female balance: 🌟🌟🌟🌟🌟

Shanghai, the economic center of "drunk and gold fans," not only houses the Chinese headquarters of many foreign companies, but also differs from the purely technological orientation of Beijing and Shenzhen. Shanghai's Internet companies are more focused on financial, gaming and lifestyle innovations. It has successfully incubated a series of outstanding industry giants, such as Xiaohongshu, Bzhan, Ele.me, and Pinduoduo.

In addition, the convenience stores and cafes located XNUMX meters away in Shanghai, the former residences and nightclubs of celebrities hidden under the plane trees, make the programmers living in Beijing and Shenzhen only have to turn their eyes into a lemon 🍋.

Let's not mention the dramas, concerts, and film festivals that are too rich to be queued. Let's eat this "trivial thing", up to three Michelin stars, and down to the side of the road.There is no food that you can't find in the great Shanghai that sings every night.

But the excitement belongs to others. The real programmers are hidden in Zhangjiang in Pudong New Area, Zizhu in Minhang District and Xinjiangwan City in Yangpu District.

Because it is the points settled to buy a house, compared to Beijing's strict threshold for buying a house, admission tickets to the Shanghai housing market are still easier to get.

But considering the average price of 7 + per square meter of house prices and at least 30% of the down payment ratio, this one will cost at least 200 million tickets. For entry-level programmers with an annual salary of 20-30, it may still be necessary Squeezed my wallet for several years.
(This house with 2 bedrooms and 2 halls is located in the core area of ​​Zhangjiang, close to Metro Line 2 which runs from east to west in Shanghai, so even at a price of 655 million yuan, it was quickly bought after listing. Source: Anjuke)

Price-performance ratio: 🌟🌟🌟🌟
Career development: 🌟🌟
Eat, drink and have fun: 🌟🌟🌟🌟
Male and female balance: 🌟🌟🌟🌟

As one of the cities with the fastest increase in the salary of technology workers in 2019, Boston in the east must have a name on the list.

(Image source: hired.com)

There are many prestigious schools in Boston, and the industry is rich. Technology, biomedical, finance, education, and various start-up companies can all find space here. The annual salary of the entry code farmer is between 8 and 11.

Relying on a wealth of traditional industries and numerous colleges and universities, the number of girls in Potton also has an advantage over Seattle and the Bay Area. Single young men can be considered.
(Image source: bostonu.com)

Boston is a long city, and its various historical and cultural resources are also outstanding among many American cities. But again, this also contributes to the relatively old characteristics of regional houses. But the old house has its own style and personality. Compared with the matchbox of the same model, many people prefer the old house that is very well maintained and maintained.
(This is a detached house we recently bought for our customers. It is located in Boston, 3b1.5b. The living area is about 1500Sq.Ft, and the price is about 48.)

Overall, Seattle's price/performance ratio is very good! But some friends said that recently, houses in Seattle have become more and more difficult to buy., There are often XNUMX or XNUMX buyers robbing a house.
In July, Flyhomes will continue to bring you
Free real estate seminars!
Help you answer any questions in the process of buying a house.
Whether you are planning to buy the first house in your life,
I still plan to replace my old house with a new one,
Or to the epidemic
Interested in the impact of housing market trends,
There are answers here!

Lecture time:
7月26日 周日 下午2:00-3:30
7月29日 周三 晚上7:00-8:30
ways of registration:
Scan the QR code below to register for free!
If during this special period, you are still uncertain about your own house purchase plan, hope to find a professional real estate agent to talk about it. Flyhomes provides free online 1 to 1 consultation, online viewing, and private viewing. Housing, help you successfully settle in the Bay Area!
📍I don't know the friends of Flyhomes yet,stamp👉America's best technology company in buying and selling housing!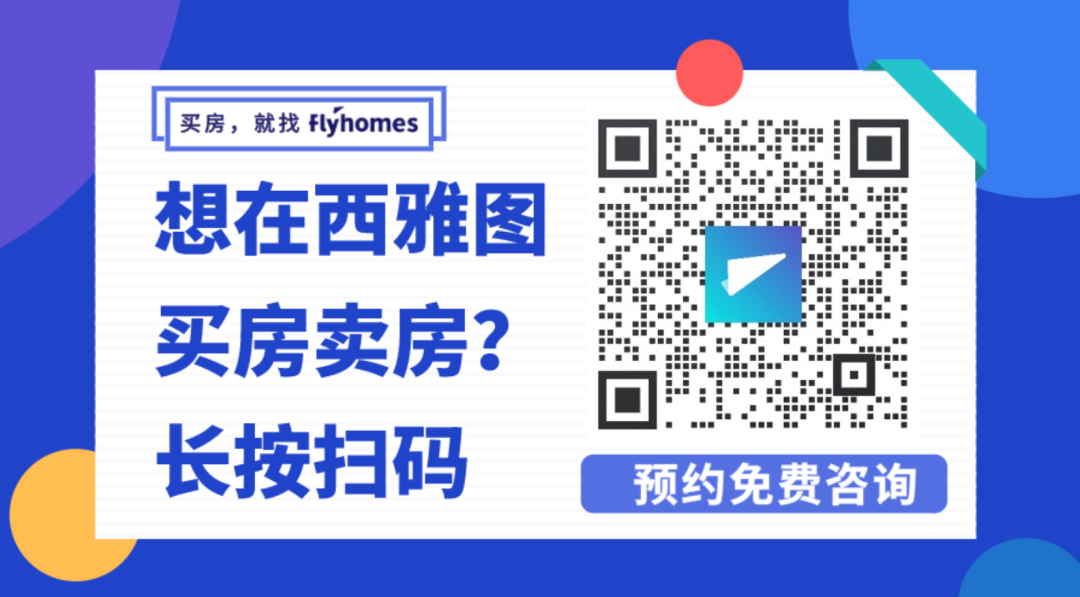 *The above pictures and texts are provided by "Flyhome",
All interpretation rights belong to "Flyhome"
* This article is a food promotion article.
For transmission and reference purposes only.
Does not constitute a recommendation for any behavior.