Catering boss must read the blue words above
Due to the surge in new crown cases, after San Francisco announced the closure of indoor dining on Friday,Santa Clara, Marin, Contra Costa and other counties also announced that fromStarting from Tuesday, November 11th, all restaurants can only do business through take-out, delivery, and outdoor dining.Other areas in the Bay Area, such as Alameda and Solano Counties, also indicated that they may only allow take-out delivery and outdoor dining.
In September, California announced a newly designed open plan.Please see here for specific analysis : The program is distinguished by color, divided into four levels according to the epidemic situation in various parts of California, and runs county by county throughout the state. Counties with new cases and decreased positive rates can reopen indoor dining.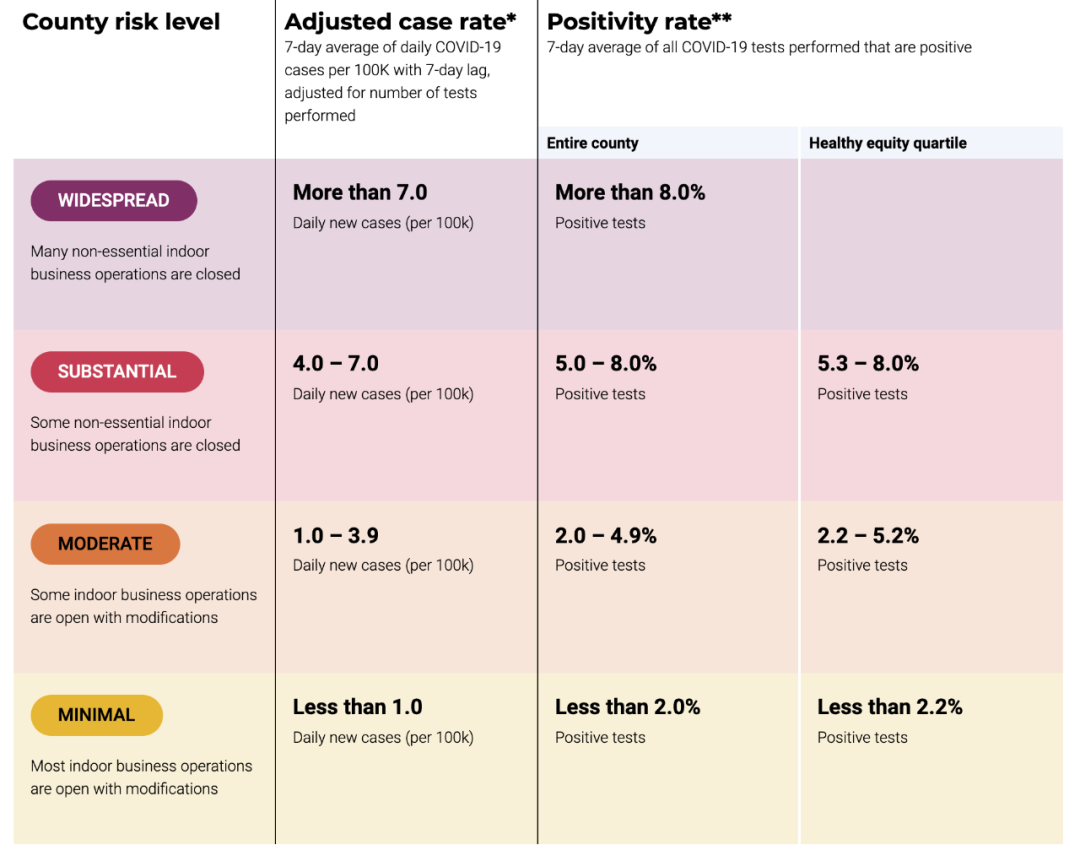 Image source California government official website
San Francisco CountyThe risk level of is currently red (high risk), and San Francisco was inIt was only opened on September 9 with 30% of the passenger capacity, and it was announced last Friday that the indoor dine-in was completely closed.Local officials said that the number of new crown cases is increasing too fast, and there are upcoming holidays, and we must be cautious.
Contra Costa CountyThe risk level of is currently purple (widely spread). Since September 9, the restaurant has allowed 29% of the guest capacity to accommodate up to 25 people for indoor dining.The local government recently announced that indoor dining must stop this week, and movie theaters must also be closed.The county health officer, Dr. Chris Farnitano, said, "Guests in restaurants should take off their masks when eating or drinking, and customers in movie theaters should take off their masks when watching movies and eating snacks."
Marin County announcedIndoor dining will be closed this Tuesday.Santa Clara County is the same.Since October 10, the local area has only allowed 14% of the passenger capacity to open indoor dine-in, but it will also be closed tomorrow.
Solano CountySince September 9, the county's indoor dinning capacity has reached 22%.The local COVID-25 cases are growing very rapidly, and they are about to return to the purple (widespread) risk level. By then, all indoor dinning must be closed immediately.
Alameda CountyFrom October 10, the indoor dining capacity can reach 23%.However, the number of local new crown cases has doubled since October, so the area is likely to close indoor dining.By the time of publication, it has returned to the purple (widespread) risk level.
As forSonoma County, Because the number of cases continues to remain high, it has been in the purple (high risk) level.inIn the past two weeks, the positive rate in the region has risen by 93%.
Napa CountyThe indoor dine-in service has been provided from August 8, but last week, the number of new cases on November 31 and 11 reached the highest level since the epidemic, and the number of cases and hospitalizations have doubled. On the other hand, indoor dining was closed again.
As of press time,San Mateo County is still the only area that has not considered shutting down indoor dining.From September 9, local restaurants are allowed to open some indoor dining.But in the last two weeks, the number of new crown cases has increased by 22%.
Image source California government official website
Most areas of the Bay Area currently have the highest risk levels

As the epidemic rebounded,It is very likely that the entire Bay Area will be beaten back to its original shape this Wednesday: all restaurants will not be open for indoor dining.Recently, there have been good news about vaccines. Before the vaccine is mass-produced, please take it seriously and take care of it🙏

California restaurant owners, please copy the link below or click to read the original text to check the local epidemic situation and openness: https://covid19.ca.gov/safer-economy/
References:

https://sf.eater.com/2020/11/16/21569595/indoor-dining-coronavirus-shutdown-santa-clara-alameda-napa

About "North American Meal Exam News"
"North American Meal Exam News" is the sister number of the North American head gastronomy new media "Eating Food Team". It aims to serve North American Chinese food and beverage practitioners and is committed to building a professional service platform for the North American food and beverage industry. We hope to promote the two-way exchange of Chinese and American catering culture, support Chinese food to go overseas, and serve overseas brands in China.
Light up and see, cheer for the nation's catering industry