At 2020:11 Western time on November 7, 8, the newly elected President of the United States, Biden and Vice President Harris, delivered a national speech in Biden's hometown of Wilmington, Delaware.
The speech was opened by Vice President Harris, who stated that "Democracy is as strong as our willingness to fight for it. To protect it, don't take it for granted. It requires sacrifice, but there is joy and progress. Because of our The people are capable of building a better future. You ushered in a new day for America,You have chosen hope, unity, decency, science, and of course, the truth. "
Senator Harris from California will becomeThe first woman in American history, a vice president of black and South Asian descent.

She said:"I am the first female vice president in American history, but I will not be the last"
Immediately after the president-elect Biden gave a speech, he said, "The American people clearly made their choice.The people of this country have won the victory for us. This is a convincing victory, a victory for our people.We won the most popular vote in the history of the United States: 7400 million.I am humbled by your trust and confidence in me. "
Biden went on to say that he was surprised by the street celebrations across the country, calling it "full of joy, hope, and new confidence in tomorrow."
Simultaneously,Biden shouted to those voters who voted for Trump, calling for unity and reconciliation.
"Now, to those who voted for President Trump, I understand your disappointment tonight.I myself have lost a few times, but now let us give each other a chance.Now it is time for both parties to'listen to each other again'.It's time to let go of harsh words, lower the fire, meet again, listen to each other again, and make progress. We must stop seeing each other as our enemy.They are not our enemies, we are all Americans.
The whole world is watching the United States tonight. I believe that the United States is the beacon of the world.We will not only be guided by the results of our ability, but also by the power of achievement."
Biden and Harris' family are here tonightA speech at Wilmington, Delaware.To be celebratedsmokeFlower in the headWhen the top explodes,A series of drones also flew overhead, forming the United States and "Biden"shape.
This morning on November 2020, 11, after four long days of waiting, the vote-counting for the 7 U.S. election finally came to an end. Pennsylvania took the lead in turning blue, and Nevada followed closely.
Democratic candidate Biden was finally elected as the 290th President of the United States with 46 votes
.
The people of Los Angeles took to the streets to celebrate
Today, when various mainstream media announced the victory of the Democratic candidate Biden, the people of Los Angeles took to the streets to cheer and celebrate.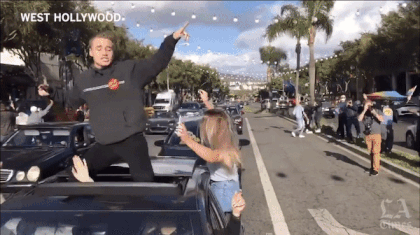 Image source: LA Times
Congratulations from leaders
World leaders sent congratulatory messages. Canadian Prime Minister Trudeau, Ukrainian President Volodymyr Zelenskiy, and former U.S. President Barack Obama all tweeted congratulations to Biden, and Paris Mayor Ange Hidalgo tweeted "America, welcome back!"
Trump tweeted: I won this election!

When NBC News announced Biden's victory, Trump was still at his Virginia Golf Club.He issued a statement within a few minutes after the announcement, claiming that "the election is not over yet." He also tweeted, "I won this election by a big advantage!"
Trump said: "Our campaign team will start to sue in court next Monday to ensure that the entire election process fully complies with the election law and that the legitimate winner wins. The American people have the right to conduct real elections. This represents us. All legal votes will be counted and there will be no illegal votes."
But when asked, neither Trump nor his campaign has evidence to prove that illegal votes have been counted.Although this request has been repeated for several days, Trump's campaign team cannot provide any reliable evidence of voter fraud.
Analysis of Biden's 6 major policy impacts
Next, we will start from
China, immigration, taxation, real estate, medical care, environmental protection policies
These 6 aspects, to Biden
A brief analysis and introduction of possible policies in the next four years.
In his attitude towards China, Biden's current tone is very similar to Trump's conservative policies:
Economics and trade, Biden will continue to pressure China and does not rule outTrade war methodsThe possibility

Human rights issuesOn, Biden also maintained "Never let go"Principle, put pressure on China in related fields

In economics, trade, politics, etc.International affairs directly related to U.S. interestsLast, Biden claimed that he would work more closely with allies than Trump,Restrict ChinaRole played and current status

In environmental protectionInternational affairs not directly related to the basic interests of the United StatesOn, Biden may chooseCooperation with China, But this is just to allow the United States to return to the framework of global cooperation
All in all, China has officially become the
Biggest competitor
, And Biden will no longer be the "old friend of the Chinese people" in the Obama era in 2008.In the next four years, China should face challenges from the Biden administration in economic, trade, political, and human rights issues.
Continuous pressure
.
If Biden wants to rebuild the friendly attitude of the United States in the international arena, he will reverse the tightening immigration policy during Trump's period to a certain extent:
Biden promised in his campaign platform to modernize the immigration system, hoping to help the United States1100 millionImmigrants without legal permanent status, provideWays to obtain citizenship

Stop building the U.S.-Mexico border wall, But it's not clear whether he will demolish the built part

May repeal the travel ban for some countries

To curb local poverty and violence by providing economic assistance to the countries of origin of immigrants, and strive to reduce the number of immigrants from the root cause

Biden has said that he hopes to accept12.5 refugees

A decision to overthrow the Trump administration that domestic violence and gang persecution cannot be an effective basis for seeking asylum in the United States
However, Biden takes a positive attitude towards protecting the job opportunities of his country's citizens.Therefore, although he hopes to increase the number of employment visas issued each year, will he
Visa conditions
Some changes that will benefit the employment of our citizens are not yet known.
The main goal of Biden's tax reform is
Annual income exceeds 40
Of high-income groups:
For people with an annual income of more than 40, additional levy12.4% social security tax

AgainstAnnual personal income exceeds 52 and annual family income exceeds 62People, the personal income tax rate will also be restored from the current 37% to the pre-201739.6%
This will lead to the effective tax rate that high-income people actually need to pay in the end
From 40% now to 50%
.
For the middle class, due to the reduction of payroll tax pressure:
Annual income of 5 to 8 9People, 2022 can$620 tax cut

8 to 9The crowd can$420 tax cut
However, because the corporate tax rate will increase from 21% to 28%, this part of the tax may be passed on to employees.Therefore, middle-class taxpayers may find that their after-tax income has declined.
Biden will inevitably need to increase taxation for his $7700 billion economic recovery plan.In addition to direct tax collection channels, he will also intervene in real estate transactions.
Currently, there is a tax bill that facilitates real estate transactions-
1032 Exchange (1031 Like Kind Exchange)
.The content of this bill is that if the income from investment in real estate is transferred to another real estate within half a year after the transfer of the real estate,
Capital gains tax can be deferred
.
Through this bill, many people who invest in real estate can never pay capital gains tax.and
Based on the investor's total annual income, a real estate transaction with a profit of $40,
Capital gains tax may be as high as hundreds of thousands of dollars
.
Biden proposes to cancel 1031 exchange
, Want to use this to increase the government's annual tax revenue of 100 billion US dollars.But in the past, Congress has rejected similar proposals. I don't know if Biden can get the results he wants this time.
Biden hopes to further expand the "Affordable Care Act":
Implement a public health insurance plan in the United States to allowAll U.S. citizens can register and use, No longer restricted by the overlord clause of private health insurance

Increase the tax credit for medical insurance (Tax Credit), Reducing the current medical insurance costs to 9.86% of personal income to8.5%, So the monthly medical insurance expenditure will be$750 reductionabout

Strive to provide affordable public medical insurance for nearly 490 million low-income people,
Environmental protection policy
Biden should make America
Return to Paris Agreement
, And also hope that the United States can reach net zero emissions by 2050.He will also propose to prohibit new oil and gas exploration projects on public land and invest
USD 2 trillion
Further develop new green energy.
I hope that the chain reaction after the results will come to an end as soon as possible, leaving the final peace of 2020...
I think the article is useful, remember to read it ❤️