On June 6th, the hot pot world thinking day and night
Liu first-hand "San Diego" store,
Dine-in has finally started!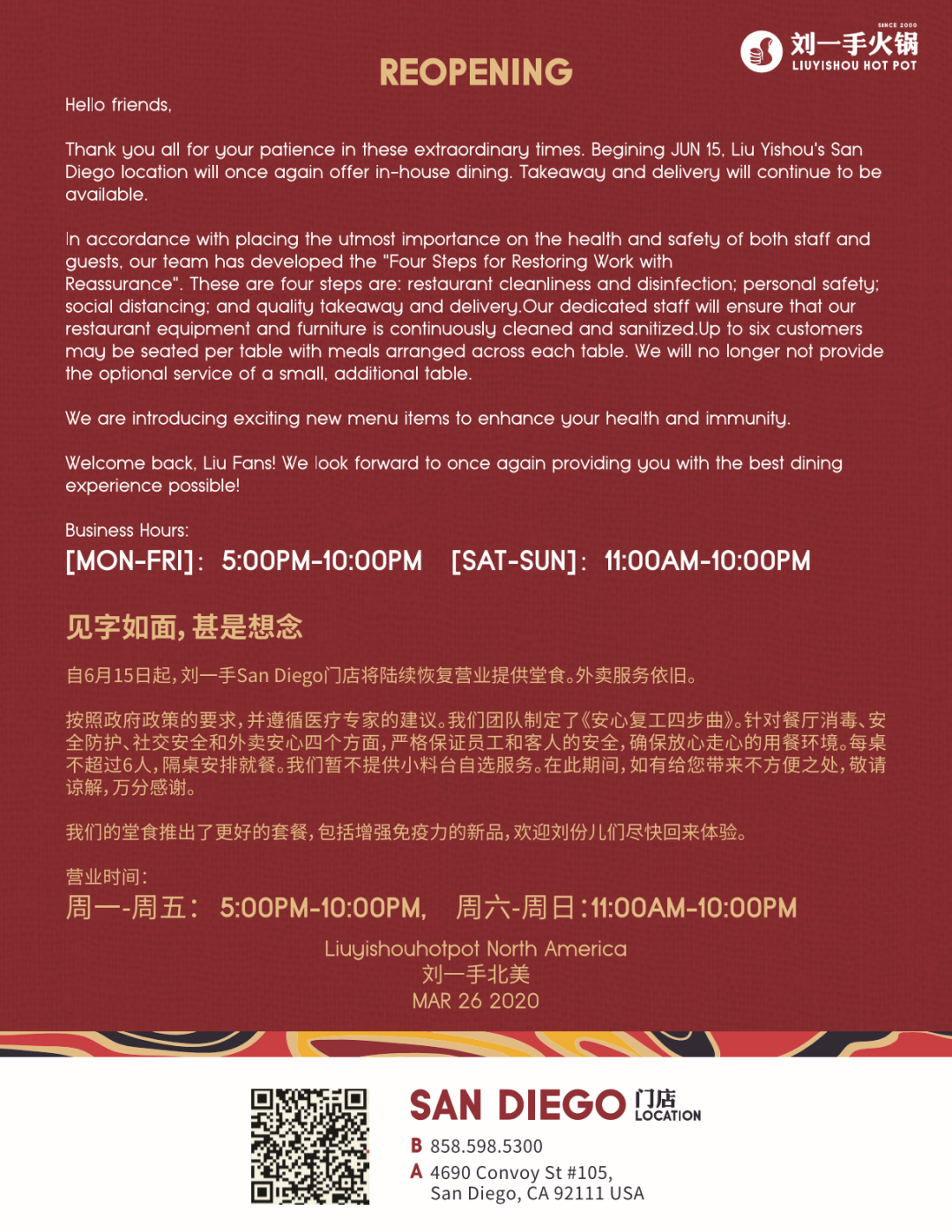 And this week's 25th is this year's Dragon Boat Festival,

I haven't eaten dumplings yet.
[In your local Liu Yishou store]
[Complete an order-takeaway or dine-in meal]
【Liu Yishou Dragon Boat White Rice/Alkaline Rice Dumpling】
If the local store has provided dine-in,
Then you will receive a long white rice dumpling like a dragon boat;
If the local store provides takeaway/self-service,
Then you will receive a whole white rice dumpling in a long lunch box.
And Liu Yishou is now launching
[Tricks to eat rice dumplings] activity!
You read that right, we are already here
Take the hot pot base with rice dumplings!
The Chinese chefs showed their talents,
Unlock N+1 ways to eat dumplings.
Colleagues from the editorial department
It seems dark but very fragrant to eat:
Everything can be rinsed-
Sticky glutinous white rice into the bottom of the red oil pot;
Dipped in Liu Yi's special soybean powder and brown sugar,
Salty and sweet, spicy and fragrant.
The stir-fried rice dumplings are full of flavor now;
The taste is similar to rice cake, but it is softer and more delicate.
Finally, we have to broadcast again!
Liu has a diner in San Diego,
Your white rice dumplings can be eaten in the store.

Strictly prevent and control
This time, Liu was fully prepared.
Refer to the recommendations of medical experts,

Starting from the four aspects of restaurant disinfection, safety protection, social security, and takeaway relief,
Developed"Quiet Resumption of Work"
Full-time disinfection three times a day in the morning, middle and evening.
Front room, packing area, back kitchen, toilet,
Wherever there are signs of life, the emphasis is on disinfection.
The chef was fully armed with goggles, gloves and masks from the minute he took the post.
The "full safety" dining process-diners entering the store need to wear masks to measure the temperature.
When serving food, a special dish-sealing box will be passed along with a dine-in relief card, which records the temperature details of each person handling it.
At the same time, each table is separated by an acrylic plate,
Make sure each table is served independently.
There will also be transparent partitions at checkout to isolate guests from service personnel.
Under the most stringent prevention and control measures,
Friends can let go of their fears and boldly resolve.
Satisfy your heart and eat it!

This Dragon Boat Festival,
Go to Liu Yi to eat rice dumplings!